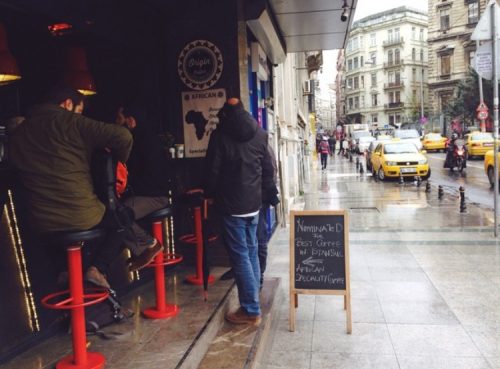 YABANGEE / Insıder Tradıng: At Orıgın Coffee
If you are a coffee lover, no doubt you have heard by now of single origin coffee. It's all the rage; even Starbucks has joined in with their "single-origin Guatemala" option. But – no offense to Starbucks customers, of which I am sometimes one – there are much better places to get your single-origin coffee these days. And, if my sources are correct, there is only one place in Istanbul to get African single-origin, fairer-than-fair trade, Istanbul-roasted, delicious, addictive coffee: At Origin Coffee.
Volkan Becerik, the head barista and owner of At Origin Coffee, spent 11 years in South Africa where he worked as a supplier of industrial materials and got into coffee as a hobby. He still has his day job, but nowadays his "hobby" has morphed into a passion and entrepreneurship. You can nearly always find him at either his Balmumcu roastery and coffee shop (off of Barbaros Blv.), or his little espresso bar outside the Keban Alkoçlar hotel, close to Taksim Square. Inevitably, he is sipping some kind of caffeine-laden beverage and working – but he will almost always have time to direct you to your perfect cup of coffee.
I discovered my perfect cup not so long ago at his Balmumcu café, when I asked him for a recommendation. "We roasted some Rwanda beans last week. Want to try something special?" he said. Volkan is a man who knows about coffee, and so if he thought it was special, I could hardly say "no". He got out a Chemex (an hourglass-shaped pour-over coffee maker) and the ritual began: He folded the filter, rinsed it, measured the ground coffee and the water, then measured the time of the drip… and handed me sublimity. He said, "People go two ways with the Rwanda. They either love it, or… well, they really don't like it." I was one of the former. Laced with orange blossom, and graced with a depth of flavor that stayed on my tongue long after I had swallowed, it was unlike any other coffee I'd ever tasted.
If you are in the latter category and the Rwanda isn't your thing, have no fear: there are other options. There are also Burundian beans, which are good for espresso drinks; Ethiopian Sidamo with winery acidity; Kenyan Nyeri with full body; and sometimes Tanzanian, a special treat with a "wildly sweet aroma." The best part? You can buy some beans to take home with you.
The things you won't find here are other milk options (like soymilk), flavors other than those inherent in the beans and (cow) milk, and drinkable desserts masquerading as coffee. Usually there are muffins (made by Volkan as well) to munch on with your coffee, and sometimes sandwiches, but not much else. Volkan keeps his café and roastery focused on providing the highest-quality coffee possible.
When his schedule permits, Volkan is also happy to organize coffee tasting events for small to medium-sized groups. I participated in one, and everyone involved had a great time. Volkan demonstrated how the beans are roasted (his roaster is one of only 32 in the world), and gave us a short lecture on how the coffee goes from tree to coffee cup. Then there were open-faced sandwiches, gourmet chocolates, and unlimited coffee – and although I thought I'd never sleep again, I was in bed and dreaming at my normal time.
At Origin Coffee's tag line is, "how it's meant to be," and I can't sum up my experience there any better. Among the mushrooming independent coffee shops in Istanbul, At Origin Coffee is one that definitely lives up to the name of "specialty coffee shop," and is certainly worth a try. But be forewarned – you may find coffee from other places harder to swallow afterwards. Take it from one who knows.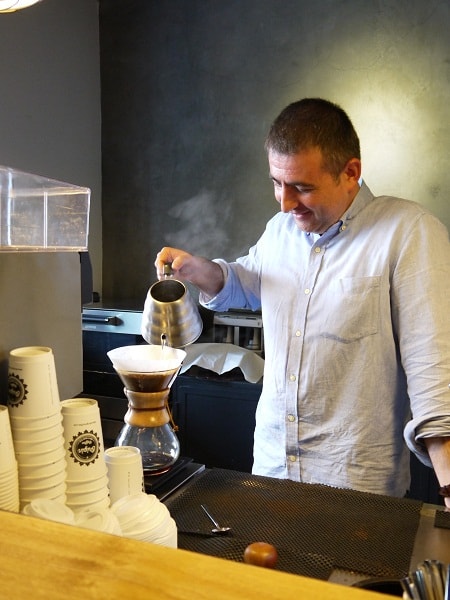 Volkan Becerik, Owner and Head Barista of At Origin Coffee (Source: K. Tanita)
https://yabangee.com/insider-trading-origin-coffee/
Sorry, the comment form is closed at this time.